"I will go to the altar of God, to God who gives joy to my youth..' - Psalm 43:4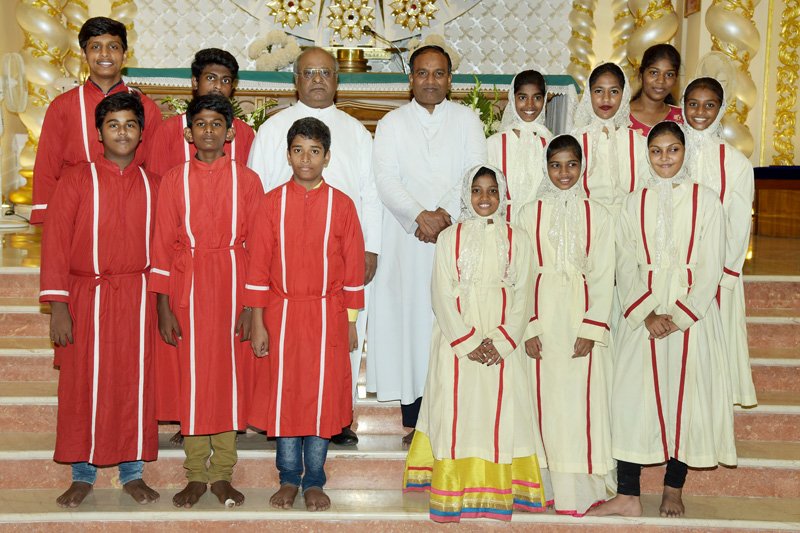 Serving at the Mass is a gift, because the Holy Mass is the most important celebration that happens in the world. As an altar server fulfill your responsibility to the best of your ability while maintaining the attitude of prayer and reverence. You will be blessed by staying close to the altar and through you your family will be blessed.
ATTENDANCE
Altar servers must reach 10 minutes before the Mass to the sacristy. Upon arrival for Mass, they need to make sure that the attendance card is signed by the Animator or Priest in-charge.
DRESS
The vestment of the Altar Server must be wornneatly and the altar server must be is in the right disposition before the Mass begins.
SCHEDULE
Altar servers must follow the monthly schedule for the Mass that has been allotted without fail and must inform planned absence in advance to the animator/priest in-charge.
COMMUNICATION
Allqueries and concerns are to be informed to the Parish Priest/Asst. Parish Priest
MEETING
Altar Servers Fraternity meets on Saturday from 5 pm to 6 pm.
TEAM
| | | |
| --- | --- | --- |
| POSITION | NAME | CONTACT |
| PARISH PRIEST | REV. FR. FRANCIS MICHAEL | 98402 10600 |
| ASST. PARISH PRIEST | REV. FR. ALEXANDER | 95661 45337 |
BOYS
MR S. MELVIN LEADER
MR D. MAXIMUS ASST. LEADER
GIRLS
MS PREETHI LEADER
MS SOWMYA ASST. LEADER